"Two couples were awarded nearly $4.25 million on Thursday after a federal jury found one of the largest natural gas producers in Pennsylvania was responsible for the contamination of their well water, capping a six-year odyssey that turned their sleepy village into a battleground over the nations shale drilling and hydraulic fracturing boom." - Timesleader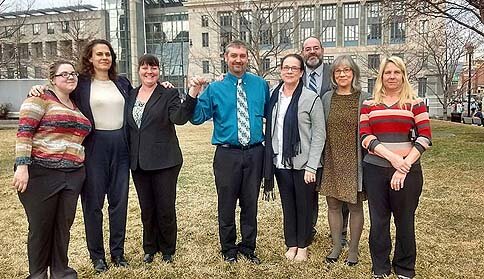 L-R- Daughter of Ray Hubert, Beth Radow, Monica Marta-Ely, Scott Ely, Atty Leslie Lewis, Ray Hubert, Lewis' sister, & Victoria Hubert . _- PHOTO © Vera Scroggins for Public Herald

Poisoning Ground Water With Toxic Chemicals


Dimock, PA Polluted Tap Water - Faucet Water on FIRE from Methane, Bradford Co. PA

Hydrofracturing ("Fracking") is the high-pressure pumping of water & toxic chemicals (Frack Fluid) into underground shale rock, shattering it to release natural gas. Methane gas & radon. While the later two are naturally occurring- drilling allows them all to migrate & contaminate ground water used for drinking water. Worse most of the toxic Frack Fluid initially remains underground for an extended time, free to migrate & pollute reservoirs & well drinking water- deadly to humans, animals/livestock & food crops.

Northeast PA Water Drilling Contamination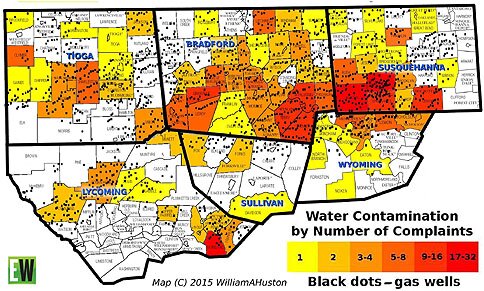 Click Map to Enlarge or Download

Waste From Gas Drilling & Fracking
Fracking produces large amounts of Liquid & Solid Waste that can contain harmful pollutants that include Toxic Chemicals mixed in Fracking Fluid such as ethylene glycol, naphthalene, & sulfuric acid, along with Naturally-Occurring contaminants, including Radioactivity, thousands of feet below.

After Drilling & Fracking besides the released Natural Gas coming to the surface, there is Flowback Water ( fracking fluid that returns to the surface after a well is fracked including Brine ) & Produced Water ( water which has been in the ground and mixed with naturally occurring materials such as arsenic, lead, radium, barium, strontium & salts.)

Ground water, reservoir & private wells have been contaminated by gas drilling- most notably in wells of nearby Dimock, PA. shown in "Gasland."

Drilling produces other waste, including Drill Cuttings (drilled rock) & drilling muds. Waste material may include Sand used to prop open fissures.

Off-site re-use & disposal methods for fracking waste include road spreading of Brine ( Salt Water ), wastewater treatment, underground injection into wells, & landfill disposal.
Hydraulic Fracturing Water Cycle
Chemicals: 140,000 lbs. of dry chemicals per fracking include; benzene, formaldehyde, toluene, & more. 65 are classified as hazardous waste. Many cause cancer or birth defects.

Fresh Water Used: 2-9 million gallons used per well fracking, taken from our ponds, streams, lakes, & aquifers for a very minimal cost & creating hundreds of Water Truck trips.
1 - Withdrawal & Collection of Surface & Ground Water
2 - Mixing of Toxic Frack Chemicals with collected Water
3 - Hydraulic Fracturing of Shale with Frack Chemical Water
4 - Impoundment of "Flowback Water" & "Produced Water"
5 - Treatment, Well Disposal, & Recycle of Frack Wastewater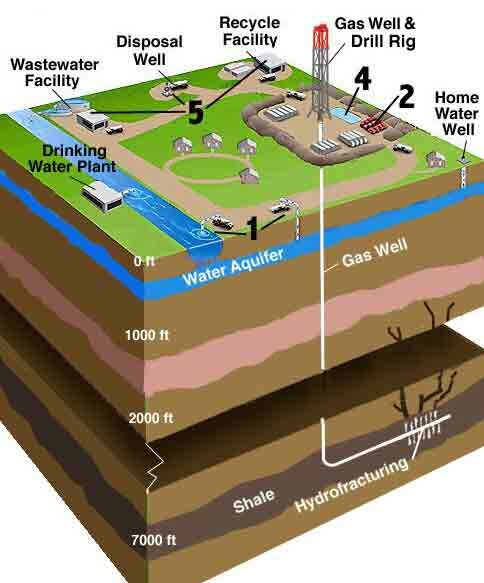 Wastewater Treatment

Many Public & Private Water Treatment Facilities do not have the capability to treat fracking wastewater to meet safe EPA & State requirements.

PA has demonstrated that frack wastewater can wreak havoc if sent to typical Municipal Wastewater Treatment Plants unequipped to handle it, causing equipment damage & water pollution from the discharge of billions of gallons of partially treated wastewater into PAs waterways.

Landfill Disposal of Solids from Wastewater

Drill cuttings, sludge, fracking sand, & other waste from both conventional, low-volume fracking and high-volume horizontal fracking sent to landfills for disposal. Sludge & other Solids separated from Frack Wastewater are concentrated to more Toxic Contamination & higher Radioactive Levels.

Contamination of Ground Water & Aquifers
1 - Millions of Gallons of Water with Toxic Chemicals & Sand (Frack Fluid) are injected into the gas well.

2 - Toxic Frack Fluid spills from poorly constructed open Flowback Pits, Pipes, Open Valves, & Frack Truck accidents contaminate local rivers & streams, seeping into Aquifers.
3 - Frack Fluid leaks through cracked & failed Gas Well Casings & travels through fissures & contaminates Water Aquifers.
4 - Fracking - Fluid pressure fractures the Shale while Sand holds the crack open to allow the Methane Gas release & also forces the Toxic Frack Fluid upwards.
5 - About 80% of Frack Fluid stays in the ground intially & is NOT Biodegradable & is free to Migrate over time.
6 - Aquifers are Contaminated from Surface Spills & Well Casing Failures.
7 - Residential Water Wells are polluted from Contaminated Water Aquifers & become unsafe for Drinking, etc.
8 - Concentrated Methane Gas creates Flammable Water & Toxic Fumes


Click for Myths & Facts about Hydraulic Fracturing:
http://www.earthworksaction.org/publications.cfm?pubiD=395

Drilling Near Reservoirs Threatens Drinking Water
Sites that were targeted for gas drilling in Lake Township are less than a 1/2 mile to Havery's Lake- & in contamination distances to Huntsville & Ceasetown Reservoirs that supply drinking water to a 100,000 people. Alarmingly, 2 leases for drilling were on the shore & adjacent to the Huntsville Reservoir itself.
MAP of Huntsville/Ceasestown
ENERGY POLICY ACT OF 2005- key paragraphs:

SEC. 322. HYDRAULIC FRACTURING.
Paragraph (1) of section 1421(d) of the Safe Drinking Water Act (42 U.S.C. 300h(d)) is amended to read as follows:
(1) UNDERGROUND INJECTION.The term underground injection
(A) means the subsurface emplacement of fluids by well injection; and
(B) excludes
(i) the underground injection of natural gas for purposes of storage; and
(ii) the underground injection of fluids or propping agents (other than diesel fuels) pursuant to hydraulic fracturing operations related to oil, gas, or geothermal production activities..

SEC. 323. OIL AND GAS EXPLORATION AND PRODUCTION DEFINED.
Section 502 of the Federal Water Pollution Control Act (33 U.S.C. 1362) is amended by adding at the end the following:
(24) OIL AND GAS EXPLORATION AND PRODUCTION.The term oil and gas exploration, production, processing, or treatment operations or transmission facilities means all field activities or operations associated with exploration, production, processing, or treatment operations, or transmission facilities, including activities necessary to prepare a site for drilling and for the movement and placement of drilling equipment, whether or not such field activities or operations may be considered to be construction activities..