5 New Natural Gas Pipelines
Planned Under FERC "Rules"
Threaten EMINENT DOMAIN
1- Click to read FERC so-called Citizen's Guide:
"An Interstate Natural Gas Facility on My Land- What to Know"
2- Click to read "FERC, Pipelines & You" & how to submit comments
3- FERC Online- the place to register to submit your comments
Luzerne Co Townships include:
Dallas, Lake, Lehman, Fairmount, Jenkins, Plains,
Bear Creek, Kingston, Dorrance, Slocum,
& West Wyoming & Wyoming Boroughs
4- Click to see "MAP of Luzerne County Pipelines" overview &
"BEFORE You Sign a Pipeline Lease- Did You KNOW?" PDF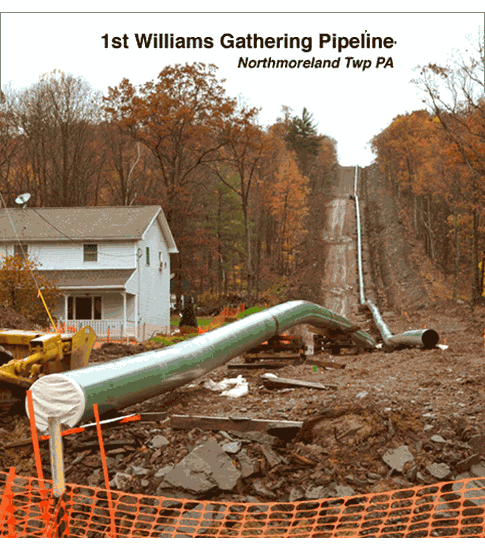 IMPORTANT- FERC- NOT A"TRUE" FEDERAL AGENCY
It's "The Fox Watching The Hen House" - this link explains:
http://www.ferc.gov/about/ferc-does.asp

The Federal Energy Regulatory Commission, or FERC, is an independent commission that mainly PERMITS the interstate transmission of electricity, natural gas, and oil. FERC also reviews proposals to build liquefied natural gas (LNG) terminals and interstate natural gas pipelines as well as licensing hydropower projects. The Energy Policy Act of 2005 gave FERC additional authority as outlined in FERC's Top Initiatives & Strategic Plan.
Marcellus Shale Gas Drilling Invades PA

Down in Texas the big gas companies are talking about North East PA as the place to be. Marcellus Shale lies under much of northern Appalachia 6,000 to 8,000 feet below the surface; the shale contain large quantities of natural gas.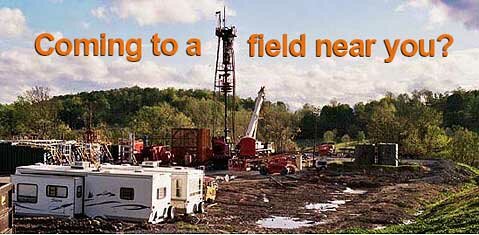 GDAC on www.YouTube.com -many informative videos -Click to view

But now with ALL Federal oversight eliminated in 2005's Energy Act (including the Clean Air Act, Safe Drinking Water Act, Clean Water Act, Superfund Law, Resource Conservation & Recovey Act, & local land use - noise ordinances- SEE the act's key paragraphs at bottom of this page) gas drilling & hydraulic fracturing ("Fracking") make recovering the gas economicaly feasable- but dangerous to area residents.
We are seeing the "land men" knocking on doors to obtain gas leases for various companies, with Chesapeake, Encana, & Cabot leading the charge in our area. Community groups are forming on both sides- from landowner associations to better negotiate leases to groups fighting drilling altogether.
Be informed, get involved- the future of our communities depend on it.
Agricultural & Residential Qualities of Life at Risk

Gas Drilling will transform our farmland & home neighborhoods into industrial areas with water/air pollution, emergency hazards, & heavy road traffic. Drillers plan wells of 3-15 acres in size, in grids 25-30 acres apart- drill rigs, pipelines, storage tanks, compressors, open pits for toxic fluids, & dangers of fire /explosions/big frack water spills as in Clearfield PA.
Negative Industrial Impact Across North East PA
Gas wells can be drilled right next to homes, hospitals, churches, & even reservoirs. Where dangerous drilling takes place, homeowners flee & real estate markets crash, harming construction & service industries. Drillers bring areas the costs of higher crime rates including drug use & prostitution. Rent costs for local residents greatly increases by demand from temporary out of town workers. Tourism decreases along with wildlife for hunting & fishing recreation.
Your Property & Rights Taken by Forced Pooling,
Eminent Domain & Elmination of Local Zoning
Gas pipeline companies have applied for Utility Status in PA to use your property to run vast pipeline networks with heavy equipment against your wishes. Drillers want Forced Pooling laws also enacted in order to force take your Mineral Rights. Drillers care only about their gas profits, not your rights or safety.
ENERGY POLICY ACT OF 2005- key paragraphs:

SEC. 322. HYDRAULIC FRACTURING.
Paragraph (1) of section 1421(d) of the Safe Drinking Water Act (42 U.S.C. 300h(d)) is amended to read as follows:
(1) UNDERGROUND INJECTION.The term underground injection
(A) means the subsurface emplacement of fluids by well injection; and
(B) excludes
(i) the underground injection of natural gas for purposes of storage; and
(ii) the underground injection of fluids or propping agents (other than diesel fuels) pursuant to hydraulic fracturing operations related to oil, gas, or geothermal production activities..

SEC. 323. OIL AND GAS EXPLORATION AND PRODUCTION DEFINED.
Section 502 of the Federal Water Pollution Control Act (33 U.S.C. 1362) is amended by adding at the end the following:
(24) OIL AND GAS EXPLORATION AND PRODUCTION.The term oil and gas exploration, production, processing, or treatment operations or transmission facilities means all field activities or operations associated with exploration, production, processing, or treatment operations, or transmission facilities, including activities necessary to prepare a site for drilling and for the movement and placement of drilling equipment, whether or not such field activities or operations may be considered to be construction activities..


Federal-State Source Documents









Gas Drilling
Awareness Coalition
General Meeting
Tuesday September 20th
at 7 pm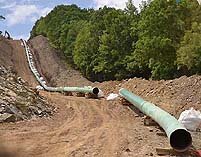 Topic: the Atlantic Sunrise & PennEast Pipelines threatening EMINENT DOMAIN.
Dallas American Legion
730 Memorial Hwy
Dallas, PA 18612
------------------------------------------------