Natural gas is transported with networks of pipelines, with smaller gathering lines joining into larger interstate pipelines & branching out again to reach various markets. Pipeline routes are dotted with Compressor Stations that run continuously & are very noisy. The gas is pressurized to force it into bigger lines & keep it moving - sometimes thousands of miles to its destinations. Metering Stations measure the volume amount of natural gas pushed.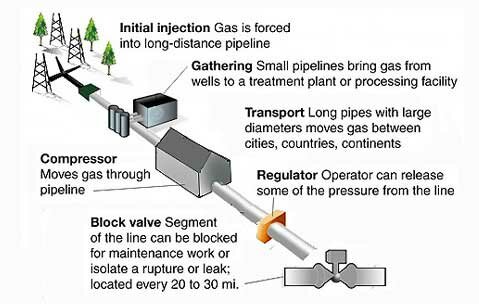 Pipelines cut through forests, farms, residential neighborhoods, schools, & even run under rivers (including the Susquehanna) & lakes, disturbing a variety of environments, sometimes in very damaging ways, as where toxic sediments are stirred up by "jet trenching" to bury pipelines in a lake bed.

FERC Interstate Lines & Eminent Domain
The Federal Energy Regulatory Commission, or FERC, is an independent agency that regulates the interstate transmission of electricity, natural gas, and oil. FERC also reviews proposals to build liquefied natural gas (LNG) terminals and interstate natural gas pipelines as well as licensing hydropower projects. The Energy Policy Act of 2005 gave FERC additional authority as outlined in FERC's Top Initiatives & Strategic Plan.

Pipeline routes are frequently established through the process of granting "Eminent Domain" - the government taking of private land- YOUR property - under the guise of "public good" BUT really at a Corporation's behest & their PROFITS, not the benefit of local citizens & resistant property owners.
Click link to hear Bedford, PA residents on Pipelines & Eminent Domain.

Text Continues following the Photo, Chart, & Map of NEPA below: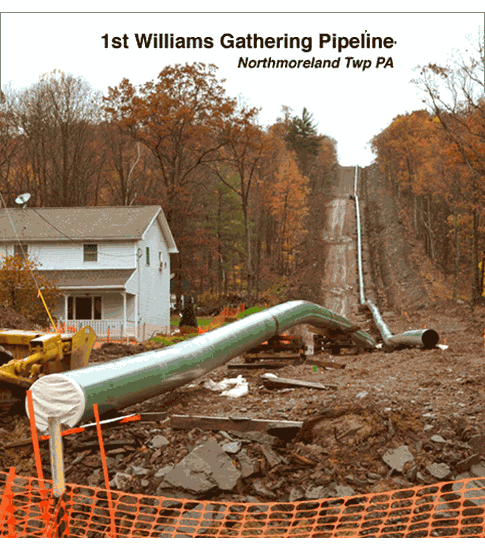 Aging Gas Pipelines Can Be Dangerous
Aging pipeline infrastructure & growing populations in once-rural areas where pipelines were routed decades ago leads to frequent leaks, which regularly produce explosions that are costly in property damage & lives lost.

In 2008 the 1950s era Transco Pipeline exploded in Appomattox, VA- devastating the area around the blast- below. The cause of the explosion was "corrosion" not indenified by pipeline inspection.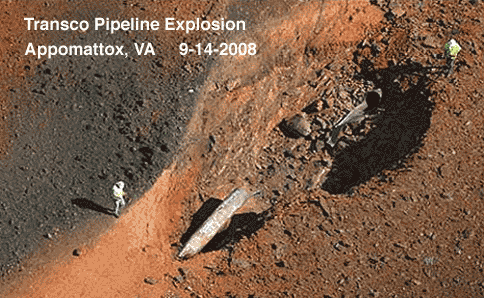 Another aging pipeline built in 1956, the Pacific Gas & Electric Pipeline
exploded, killing 8 people, 6 missing, 60 injured, & burned down 53 homes.
http://news.nationalpost.com/2010/09/10/map-photos-san-bruno-california-explosion/
Compressor Station Air & Noise Pollution

Besides areas where Gas Drilling itself takes place, communities near Compressor Stations & Natural Gas Storage Tanks also suffer from the problem of Polluted AIR. In Forth Worth, Texas, in the Barnett Shale gas fields, natural gas storage tanks & compressors have had a negative impact on air quality increasing smog equal to all vehicle traffic in that Metroplex.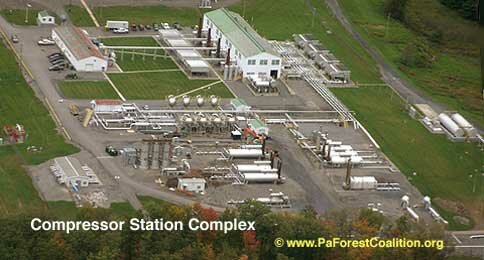 Recent video footage taken by the Texas Commission on Environmental Quality using an infrared camera clearly shows fugitive hydrocarbon emissions billowing from storage tanks. Storage tanks are designed for a certain amount of legally-permitted leakage

.



Researchers have found that neighborhoods, schools, & workers in close proximity to oil & gas activities may be at increased risk for cancer, cardiovascular disease, asthma, & other disorders, due to industry pollutants.

Emissions released from gas compressor stations, have been shown to increase the chance of deaths from respiratory & cardiovascular diseases as well as increasing the rate of premature births & low birth weights. Chemicals known as Volatile Organic Compounds (VOCs) that include benzene & toluene, can put people at risk of developing leukemia, kidney & neurological diseases, as well as increasing the risk of renal & other cancers.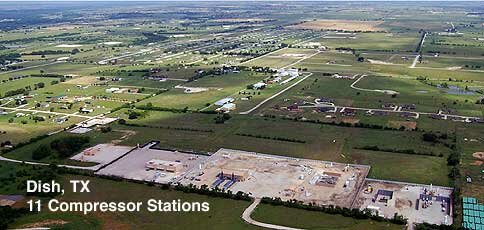 In Dish, Texas, where numerous pipelines & Compressor Stations have been built in recent years, there has been a corresponding die-off of trees, livestock dying of mysterious causes, & humans are developing a range of unusual medical problems from toxic fumes. Children in large groups get periodic nose bleeds when attending schools located near Compressor Stations.

Suspected in these nosebleeds is formaldehyde, a byproduct of the combustion engines used in the compressor stations that pump gas through transmission lines- as reported in the Star-Telegram newspaper of Fort Worth, TX." The Environmental Protection Agency published a draft report in June 2010 declaring formaldehyde a carcinogen."

"Environmental scientists say the danger of formaldehyde in the air is twofold. Some researchers believe that at lower levels, it accelerates the formation of ozone, the main ingredient of smog. At higher levels, formaldehyde becomes a direct health risk, irritating the eyes, nose & throat, causing wheezing."

Besides truck traffic & other industrial activity stresses, people living near Compressor Stations can develop a life-threatening condition from the constant intense low-level noise called "vibro-acoustic disease," described in Noise and Health, a respected international journal, as a whole-body, systemic pathology, marked by depressions, increased irritability & aggressiveness, a tendency for isolation, & decreased cognitive skills, among other symptoms.
-Adapted in part from the co-authored Fact Sheet of:
Chenango Delaware Otsego Gas Opposition Group (CDOG)